How WR has reimagined office life — starting with our own
Articles
How WR has reimagined office life — starting with our own
Drab overhead lights. Stiff desks and stuffy rooms. Sterile interiors devoid of any sense of humanity.
Thanks, but no thanks.
When we think of the stereotypical office "experience", it's no wonder so many employees aren't chomping at the bit to return.
But many employees do want to come back to the office in some capacity — as long as it feels like they're getting something out of it. People have proven they're capable of getting work done from their homes at this point. So if workers are spending part of their week in the office again, that time needs to come with its own benefits.
These sentiments were top of mind when it came to the radical refresh of our Central Park and Colorado Springs locations. This is so much more than a fresh coat of paint, so to speak. It's a total reimagination of the in-office experience. Part showroom, part headquarters — these spaces bring each of our company values to life, allowing the best parts of in-person work to flourish. Collaboration. Creativity. Connection. It's all on full display as soon as you step inside. These revitalized rooms are living proof that Workplace Resource walks the walk. After all, how are you supposed to trust the team in charge of elevating your office experience, if ours isn't a certified showstopper?

"It's important to design experiences that inspire people to come to the office every day. Not only should the office environment feel good to be in, but it needs to function in a way that supports the daily activities and motivators that come with being in the office. As a working showroom, there is an opportunity to showcase multiple solutions to support many work styles and multiple experiences." - Lindsay Malison, Design Director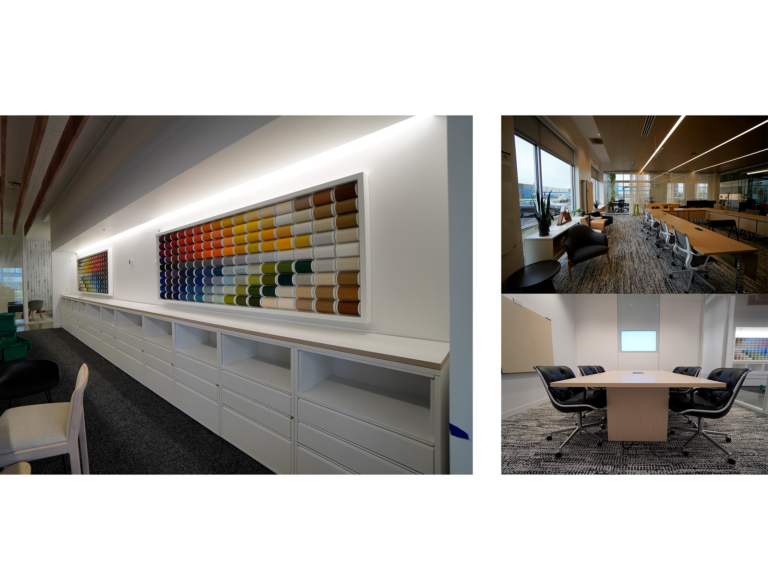 This is a space that has been reimagined with the hybrid lifestyle in mind. No assigned seats. Plenty of room to cater to whatever your day demands. All of the energy you've been missing since remote work took over the world.
From the broader sense of the space down to the nitty gritty, every piece has a purpose in terms of breathing new life into the workplace. Take the Muuto Linear Table in the design library, for example. The focal point that brings a sense of familiarity for employees, while serving as a functional anchor that will bear witness to plenty of finish meetings, pitches, and collaborative moments in this new era for the team.
But beyond infrastructure itself, what allows this newly-minted, fully-energized space to shine? It's the hospitality.

"Hospitality means providing the pinnacle of service to whomever is in our presence, at all times. Thinking of things they need/want before they even realize it and having easy access to the things required to address their needs the minute they enter the space. It's the mission to have every one who leaves one of our spaces feeling like it was an experience better than they ever could have expected and unlike the very best they've ever had." - Carla Dore, President + CEO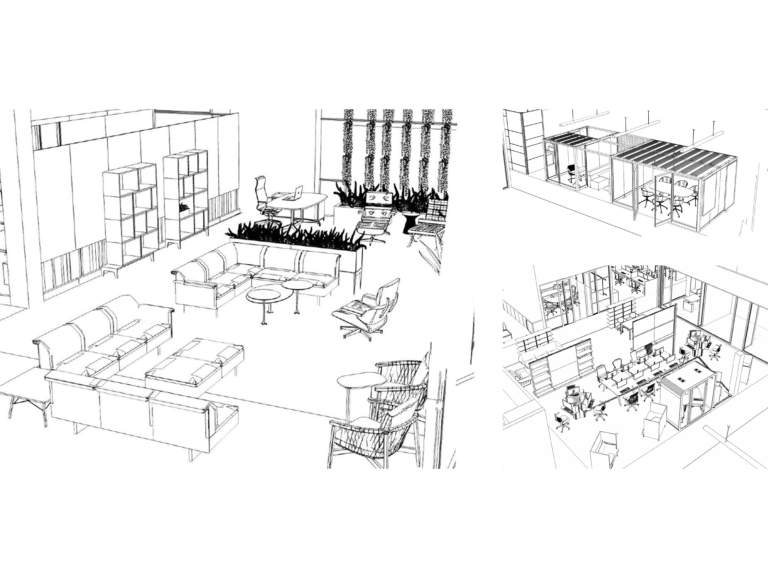 The experience begins the moment you arrive, as the start of any showroom tour is complete with a concierge, hospitality bar, flexible lounge seating, and purposeful technology to support your every need.
It's a working showroom, meaning that if you're stopping by, you'll see the thoughtfulness in every part of the room in action. Not only is this showroom functional for our own employees, it serves as a jumping off point for prospects looking to kick start something fresh of their own.
When it comes to the Colorado Springs location, it's a masterpiece of its own. Designed to inspire the brilliant businesses around the Springs metro, it's a showcase and testament to the benefits of having an incredible workday experience. Here, less is more, and this space highlights how efficient lower square footage can be in today's hybrid reality.
"Prior to COVID and the hybrid working models, the belief was that more work points and employee agency required massive amounts of floorplate square footage. That is not the case at all. We've figured this out with our own experience and we have proven it to work well. The Colorado Springs Showroom was designed with purpose for customers operating in — or looking for — the 7K square feet or less floorplate and want to provide their employees options and the ability to design their work day their way (while still having the ability to show our client/visitors our depth and breadth of product and services to fit companies of all sizes)." - Jeffrey Hawthorne, General Manager, Colorado Springs Showroom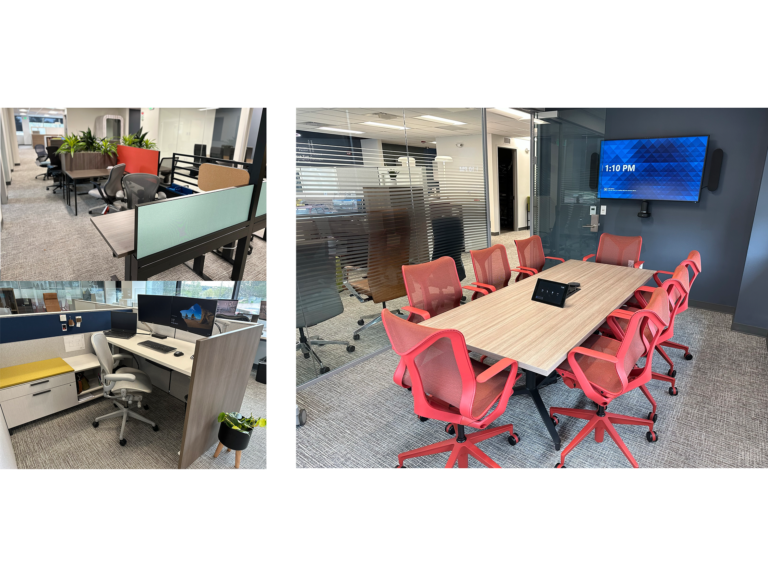 With dedicated workspaces, open lounge areas, plenty of collaboration space, and free-addressing all built into just over 4k square feet, the Springs location does an excellent job of showing customers how to maximize every square foot, while getting their employees excited to come in every day.
From the lighting to the decor to the overall ambiance, serious consideration has gone into making these spaces feel less like "work" and more like an environment that inspires, invites, and excites.
Of course, it's one thing to say that, but take one step inside the revitalized showrooms and you'll see it being exemplified on a daily basis.