The totally refreshed d-lab inspires creativity and collaboration.
Colorado State University Fort Collins' existing Design Lab (d-lab) lacked flexibility, up-to-date technology, and an engaging aesthetic to inspire creativity in its interior design students. Students regularly met in the Lab but often moved on to work in other spaces when it came time for designing in a stimulating environment.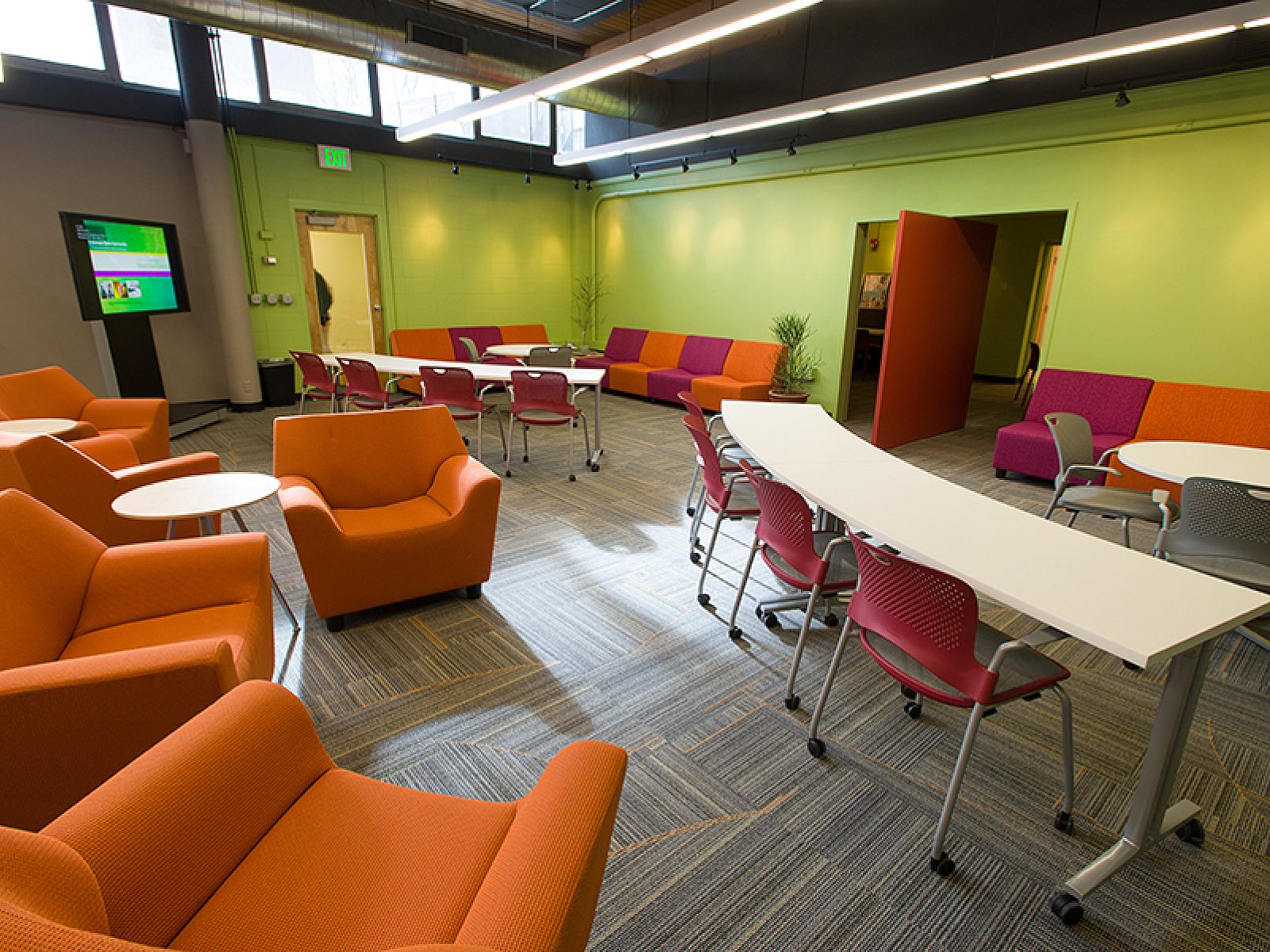 Herman Miller began discussions with CSU in 2011 regarding its Learning Studio Research Program (LSRP). Since 2007, over 35 institutions have collaborated with Herman Miller using the LSRP, testing, and forming educational spaces to expand the possibilities in classroom learning.
The result of the collaboration among CSU, Workplace Resource, and Herman Miller? The d-lab is a 24/7 haven for students working on design projects, writing papers, conducting group meetings and activities, and simply hanging out—even on weekends. The totally refreshed d-lab inspires creativity and collaboration, offering five different learning areas:
Social collaboration takes place in the coffee spot, allowing students and staff in the building to take a break and relax to re-charge creative thought.
Connecting with technology happens in the collaborative lounge or "living room" equipped with two 60" LCD screens and Barco "pucks", through which up to four individuals share their laptop work on the big screen.
The studio work area supports individualized or group work with moveable work tables, ergonomic seating, mobile white boards, and wall tack surfaces.
The team area invites groups to share and exchange project ideas, using work tripods with low dividers and acoustical and visual privacy screens, tack surfaces, and white boards.
A research and resource area supported by current trade and professional publications and key resource books enhancing knowledge on the spot.
"Workplace Resource and Herman Miller have given us amazing service. They've helped us to align the interior design program with our future learning and teaching needs and technology strategies. Without their support and service, and the Herman Miller Learning Studio Research Program, we would not have been able to create the CSU Design Lab and we would not have a space described by students as, "I want to live here, awesome, unimaginable, unbelievable, advanced and aesthetically makes a branding statement that effectively describes the quality of our program."

Our experience with you was incomparable…this is the best project on the CSU campus, and it is above and beyond any other space renovation on campus. Your staff—from Jamie Davis, with Carie Mueller's insights and support, to Jeff Thomas' efficient installation—made my work easier and trouble-free. If something changed, it was attended to immediately. If there was a question, a rapid response. If a change in the plan, a new plan in minutes….WOW!!! Talk about customer care. And the entire project would not have come about without Carie's query as to whether we were familiar with the Research Program. I would love to do this project again with you!"

– Katharine Leigh, Professor, Colorado State University